St. Louis attorneys and other professionals
trust us to keep their firms
safe from cybercrime and lost time.
Your time and business are valuable. Too many St. Louis IT support providers allow their response times to lag, don't have the experience to help you once they do call, and they treat you like you're just another "user".
We help people in St. Louis work smarter, not harder.
We provide our clients customized, managed IT support that gives them the tools to make their technology secure and work for their team.
If you're tired of dealing with St. Louis IT support providers that just can't get it right, give us a call. Let us show you what fast, friendly and highly responsive outsourced IT services can do for your firm: (314) 732-0700.
We service
lawyers,
accountants,
professionals,
attorneys,
people,
not computers.
Call Our Clayton Office: (314) 732-0700
We've had the pleasure of working with St. Louis IT Solutions for many years – it's an incredible value – these guys are knowledgeable, proactive, and responsive. They upgraded our IT services while also saving us money. I completely trust David and his team to safeguard all of our sensitive client information. Be crazy to look anywhere else!
~PE – Ladue, MO Ad Agency
Working with David and his team for the last nine years has exceeded even our high-level expectations. St. Louis IT Solutions is extremely easy to work with, they are highly skilled and are experts in finding and implementing the best solutions for us. St. Louis IT Solutions is a huge asset to our firm and productivity.
~BB – Attorney St. Louis County
Amicus Information Technology has been our go-to IT service provider for over 8 years. David and his team have never let us down.
~PK – St. Louis City Business Owner
Book a 15-Minute Problem Solving Meeting With David Phillips
The first 100 people to fill out the form below will be
mailed a free copy of David's book — Phished!.
[Only 47 copies remaining]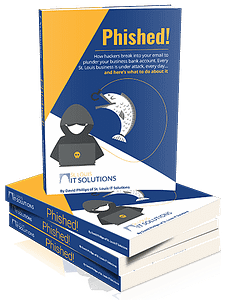 We do IT so you don't have to.