Call Our St. Louis Office: (314) 732-0700
Book a 15-Minute Problem Solving Meeting With David Phillips
The first 100 people to fill out the form below will be
mailed a free copy of David's book — Phished!.
[Only 68 copies remaining]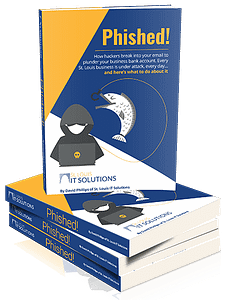 Your time and business are too valuable to trust it to just any IT company.
Too many IT support providers allow their response times to lag,
don't have the experience to help you when they finally do call,
and they treat you like you're just another "user".
We help people work smarter, not harder.
We provide our clients customized, managed IT support that gives them the tools to make their technology secure and work efficiently for their team.
If you're tired of dealing with IT support providers that just can't get it right, give us a call.
Let us show you what friendly, fast, and highly responsive outsourced IT services can do for you and your firm: